But before you spend any money (even if it is just $0.99), let's poke around a little.
And yes, the photo below of me opening a book is just a visual metaphor—your book will be built using soy-based, gluten-free, recycled electrons. At the bottom of the page are links to a couple of the stories.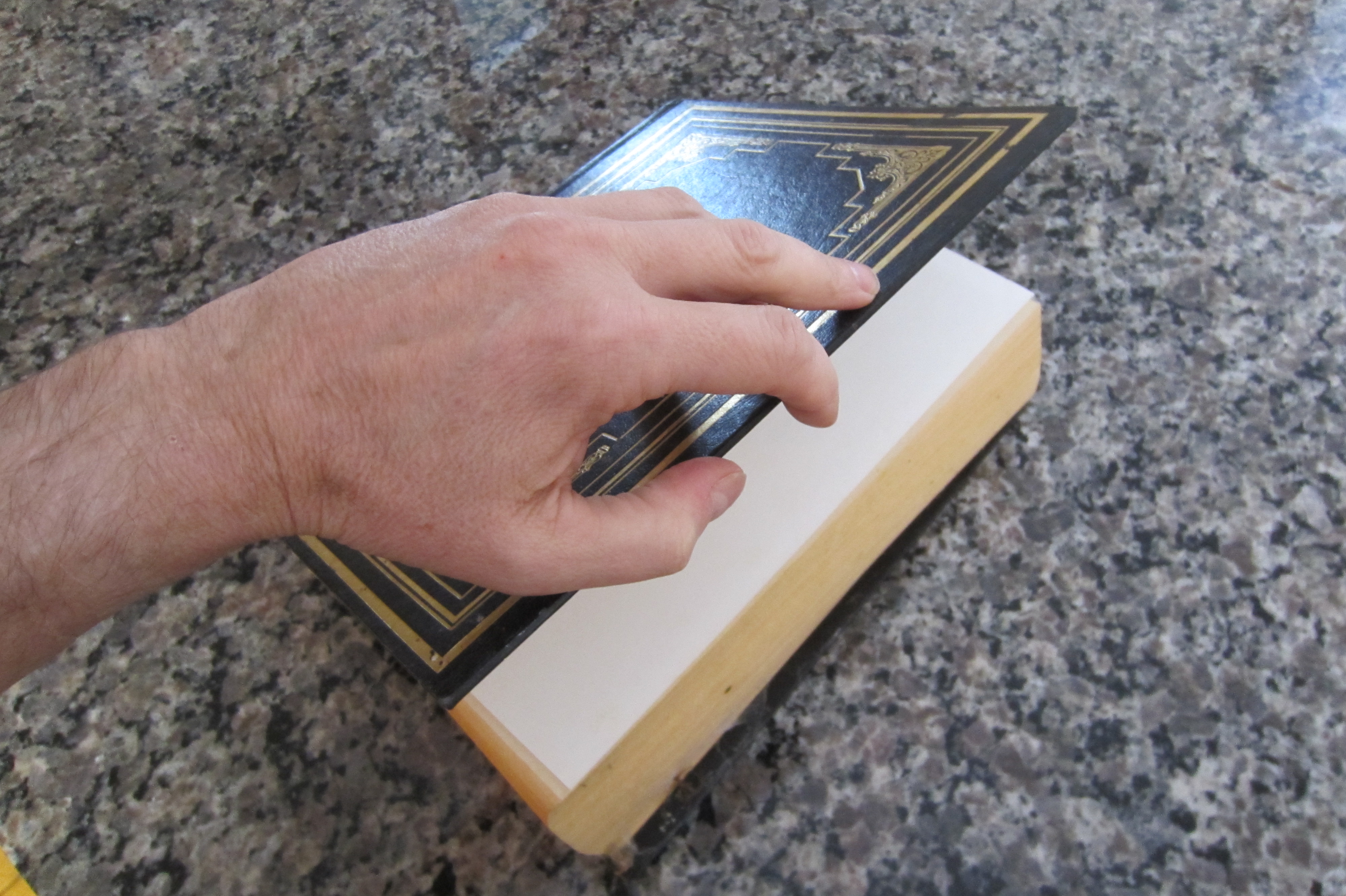 ---
The stories in these books were originally published in The Bridgton News as Views from the Uppermost House Awards by the Maine Press Association, "Local Columnist" category: 1st place ('6, '07, '08, '10, '11, 12'), 2nd place ('13), 3rd place ('09) Note: the 3rd place was an anomaly caused by an errant semi-colon. I am grateful to my editors for graciously allowing me to republish these stories.
---
Comments from happy people!
"If you want to read a book about true love, you must read this book. It will be so good for your heart."
—Kindle review
"This book highlights the comical, sad, and ordinary happenings of loving families and brings those events to life and gives them meaning. The underlying theme is family and how important it is for parents to just be present and involved with their children.  You will laugh and cry with the author and you will love every minute of it. A must read for both mothers and fathers!"
—Sara R., NY
"The stories really draw you in. They make you want to write YOUR OWN stories."
—Patrick S., WA
"Yeah, it seems our lives are an open book…so to speak."
—
Karen L.,  ME
(the author's wife)
"Laughter inducing, tear seducing, and entertaining to the last drop. Peter Lewis truthfully captures what it means to be a 'Dad'."
—
Katie J.,  OK
"

Peter, thank you! I could smell, taste, feel the wet grass as I glanced over at my own precious barn boots. You helped me see my Father's eyes on Saturday mornings when he winked and put out a huge, calloused finger for my four year old hand to wrap around. Blessings Peter. You've sparked memories in my heart that my head had forgotten.

"
—Carla B., NH
As you read these stories, you will get to know every one of us. Especially my dad. He has a way of taking you (and anyone, really) under his wing and showing you what it means to be truly and utterly happy. He inspires me everyday. He has been a father to many and a friend to all. He often reminds me of the quote from Clarence Budington Kelland, 'My father didn't tell me how to live; he lived, and let me watch him do it.' "
—Amanda L., NY (the author's daughter)
"S. Peter Lewis's book is the best possible way to learn about fatherhood: stories from a father/son!"
—
Off to Antigo
"Oh what a fantastic collection of stories! Your kids sure are clever! I haven't even read the last quarter of the book and already I LOVE it! I like how you taught your kids in a gentle manner (not so gentle for the cat in some cases) and years later it was obvious you taught them in an effective way. ("Maybe you have to get clever about it, experiment a little.") Off I go to keep reading…"
—J Squared
"Peter is a truth speaker, as story teller, a life giver and his book is such a blessing to any who takes the pleasure of reading it"
—James L, FL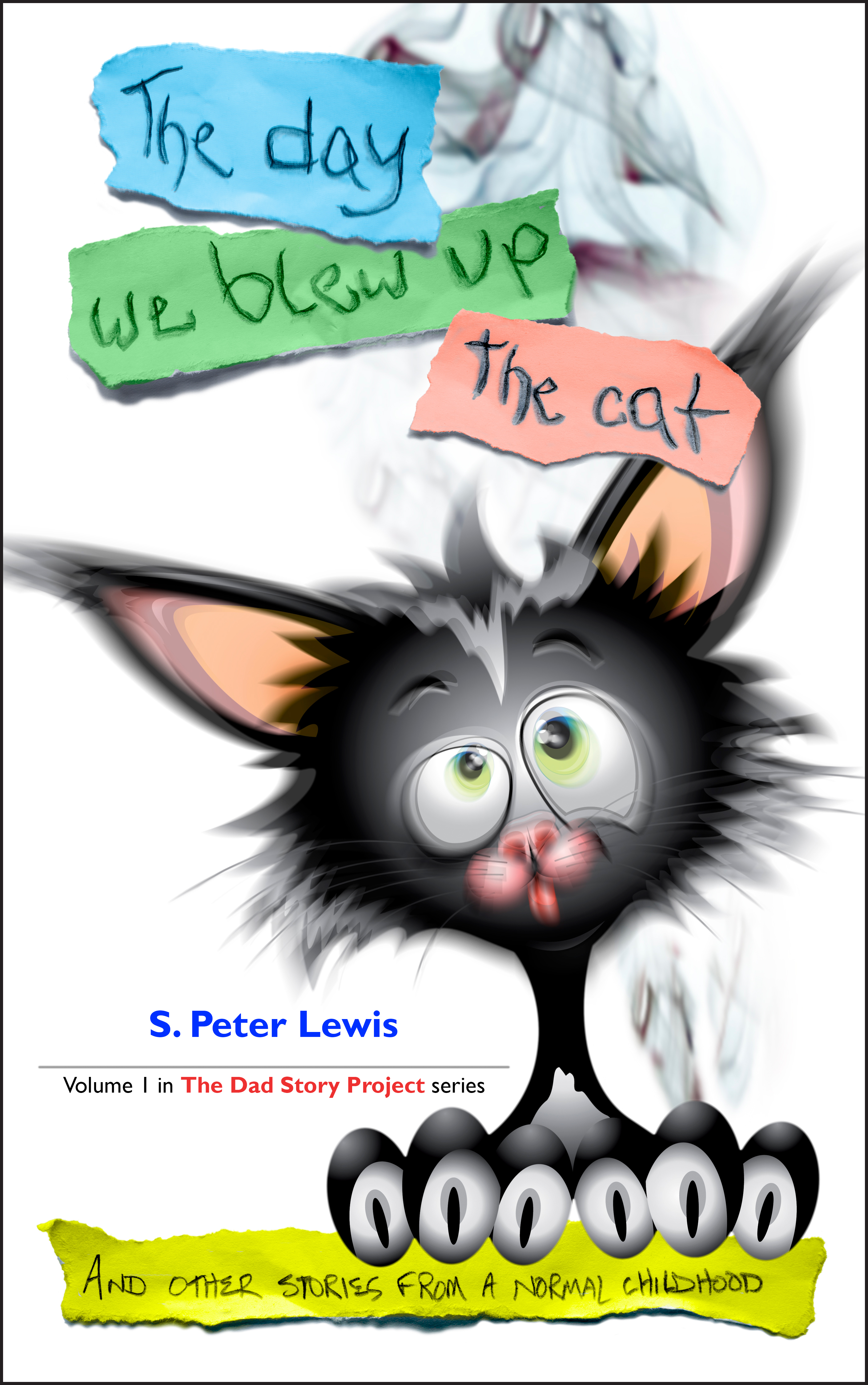 Click on the cover image to go to Amazon.com
THE DAY WE BLEW UP THE CAT
And other stories from a normal childhood
Just being there
A trip through sideways sleet just to be in the corner of my son's eye
Animal husbandry of the fowlest kind
Or, how not to dispatch an ornery rooster
The day we blew up the cat
A teachable moment goes up in flames, so to speak
Barn boots
Keeping a little girl's dream alive by simply mowing a little grass
Thankful for what matters
An imaginary dream rearranges a dying man's priorities A barn, two boats, and a boy A father, a son, a dangerous rearrangement, a secret note
Confidence in a can of latex paint
Persistent encouragement keeps bleeding through
If we could choose forever now
A time machine for a husband's heart
Storing up treasures
A man's lament over materialism, then he opens the door
I see my father running
A boy watches his dad through shattered glass
Amidst a downpour of mallards
Final tender moments before a big life event
Journey back to the Secret Place
A father and son reconnect after 40 years
The red knife
Holding the love from a child in trembling hands
No matter how hard he tried
After two decades, a red playground slide appears out of the fog…
Waving at the offspring
You raise them up just so you can let them go…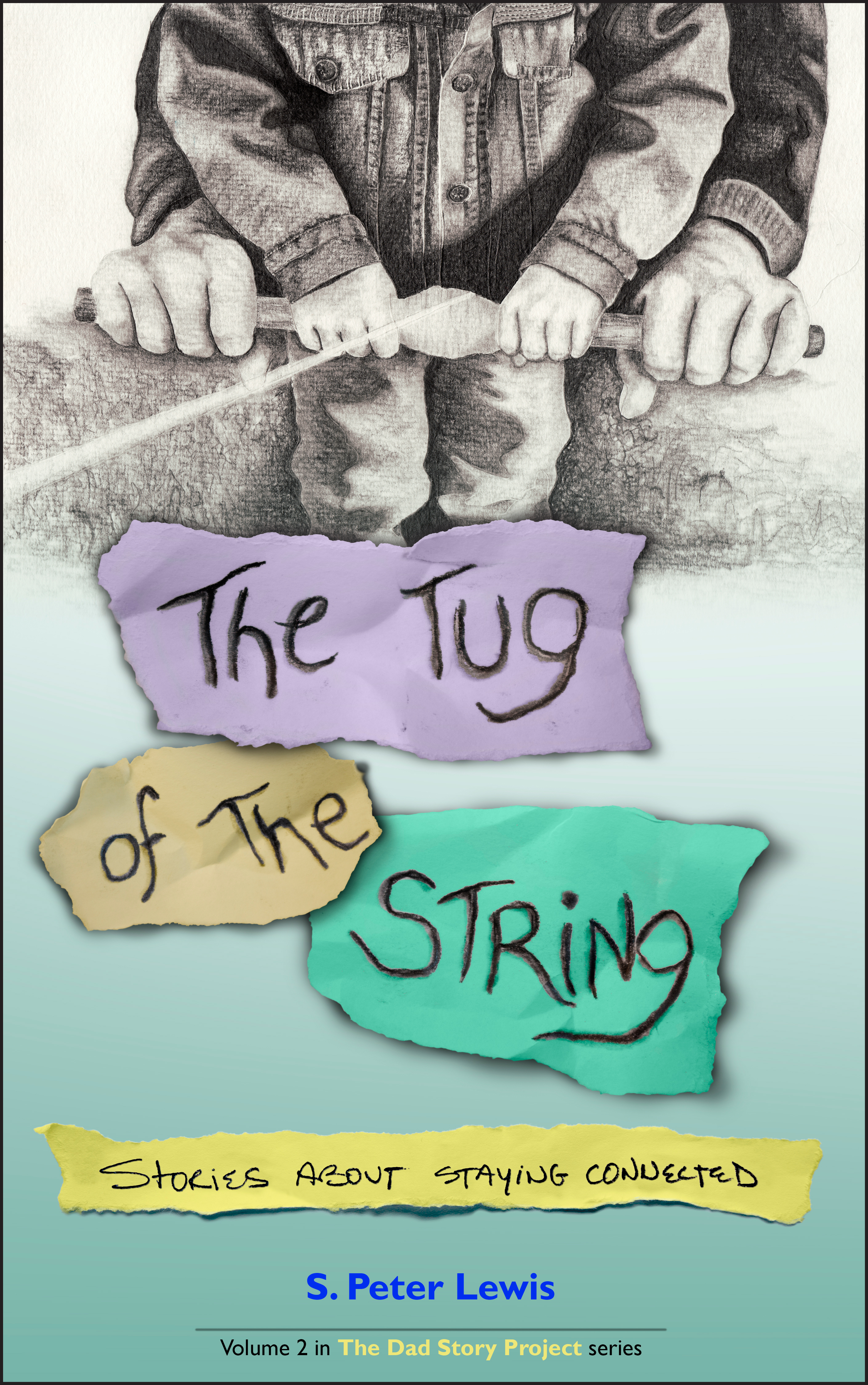 Click on the cover image to go to Amazon.com
THE TUG OF THE STRING Stories about staying connected
Catching memories in the air A tiny boy remembers being lowered into a hole In search of a golden and shining hour Building memories in an old barn My grandmother's hands A little boy learns to see with his eyes closed To the blue sky and back again How to build a time machine in your back yard Down to a great small sea A flight of fancy in a mud puddle The tug of the string A story about staying connected 20,000 leagues under the meadow Hide and seek of the most verdant kind The third aspen on the right Sometimes a man just needs to make a mark Ice Fishing at 20 mph A frozen lake and a big mistake Freefalling toward pepperoni Half of our family at terminal velocity Gaining perspective among the bluets A cemetery helps life make sense Reliving the crash of '97 A father and son, a great experiment, and a small disaster A hug is worth 1000 words The wonder of a pair of arms and a huge heart The blessings of things hoped for Praying for a future daughter-in-law The river always flows away Family and time, always slipping by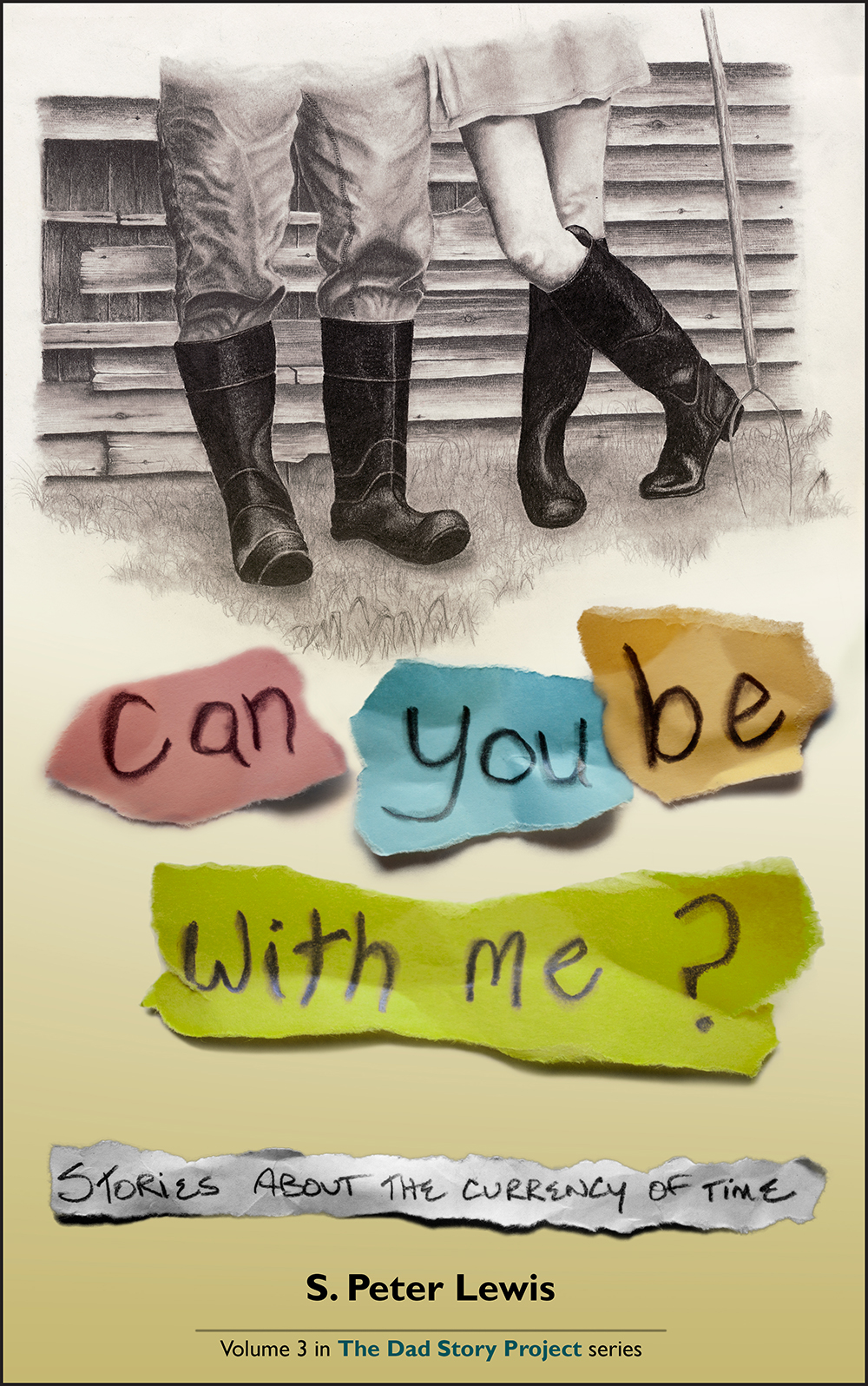 Click on the cover image to go to Amazon.com
CAN YOU BE WITH ME? Stories about the currency of time
Zero sum game, not A day out on the lake accomplishing nothing and everything all at once The six-hour bathing suit A father and daughter go an an aquatic hunting expedition Why don't we live now? Encouragement to think of your legacy every day A slingshot in Nebraska A change of direction on the interstate changes a young boy's heart You just don't have time An admonition to understand the currency of time Never too late for a first date A geek and a pretty girl fall in love A tale of two turtles A reptilian tale of cunning and stupidity (a bit redneck) Amidst a downpour of mallards The amazing value in everyday occurrences Place one small stone . . .  A mom and her son and some life-lesson vandalism Serendipity in the barn A long-lost note turns up at just the write moment Daddy, can you be with me? The simplest, most precious request in the world The gift at the door Perhaps the greatest surprise in the history of fatherhood Hey, kids, come down from there Sometimes the silly and goofy can be sublime My Life in a Tumbling Troupe Epic tales of danger and poor judgment Whispers to an anxious heart A father's encouragement echoes in his own life

---
Have you read the books?
Please go to my Amazon author page here. You will find links to the books and you can write a review!
You can also send a review directly to me using the Contact Us page (and we may add it to the blurbs you see below).
And, consider joining Goodreads.com and submitting a review there.
Thank you!
---

Read Just being there, The red knife and Confidence in a can of latex paint from the exploding cat book.